SEPID NAMA (Exterior Masonry Paint)
We Are Served Quality
Constractional Coating Category
SEPID FAM (Interior Masonry Paint)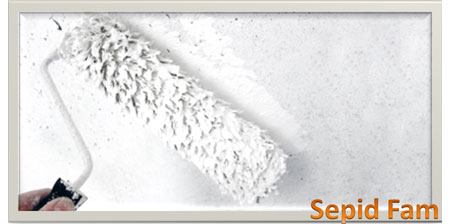 ---
ODORLESS
Applying Sepid Fam instead of ordinary interior masonry paints has many advantages arising out of its odorless characteristics .
The most important of these being it can be used in interiors such as Hotels and hospitals without causing any problems to its occupants.This paint is resistant to water and pollutants
---
Following are the advantages of Sepid Nama
Odorless
Water based
Environmental friendly
Washable
Can be produced in different shades
Application being very easy
---
Application Method
Sepid FAM can be applied both with a roller and a brush. It is 100% washable.
In order to achieve the highest level of protection it is recommended after applying one layer of film as a primer a second layer be applied 24 hours thereafter.
---
Quality Advantages
Permeable in any kind of Surface
Excellent adhesion property to different kinds of surfaces
Non blistering and non flaking property
Protective against corrosive gases and air pollutant factors
Resistant to fungus growth
Waterproof
Minimum absorption of dust
---
Cost advantages
The main cost advantages of Sepid FAM emanates from
No requirement to use any kind of chemical for surface preparation High Durability and elegance Sepitak can make available Sepid FAM in over 200 shades.
---
Interior Masonry Paint
This product is designed and formulated to treat surfaces of interiors of buildings Apart from providing elegance and beauty it also provides protection to the surfaces on which it is applied.
Being water based and free of Chemical solvents makes this product odorless. This feature makes it most suitable for use in hospitals and hotels.
---
Test
Standard
Test result
Product code
-
IF 1210
Hue/color
RAL
According to the customer's order
Application method
-
Paint brush, roller ( 2 films )
Dry film thickness
-
150 microns as a primer and 150 microns for
topcoat
Suitable temperature for application
-
-5 C~ 45 C
Drying time
-
30 min. in 25 C
Viscosity
-
0.3 x 10000¯¹ Pa.s
Density
ASTM D1475
1.53 gr/cm3
Nonvolatile materials ( Weight percent)%
ASTM D1644
60 ± 1
Nonvolatile materials ( Volume percent)%
ASTM D2697
45 ± 1
Ignition point
ASTM D56
42 ± 1
Adhesion
ASTM D3359
5 B
Scratch
ASTM D3363
5 H
Humidity (300 Hrs.)
ASTM D4585
Resistant
Submersion in water (300 Hrs.)
ASTM D870
Resistant
UV ( 300 Hrs.)
ASTM D4587
Resistant
Water absorption
-
After 2 hrs. submersion = 0.005 gr/m2
After 48 hrs. submersion = 0.09 gr/m2
Chilling resistance
-
In –20 C for 24 hrs. no changes seen on the surface
Consumption rate
-
1 Kg 1.5~2 m2
Packing
-
10 Kg
Storage
-
1year away from direct sun rays in 25 C
Important Note
It is strongly recommended not to add water.
Applying tools can be washed with water.