SEPID NAMA (Exterior Masonry Paint)
A Family of Rockstar Wordpress Themes
Constractional Coating Category
SEPID NAMA (Exterior Masonry Paint)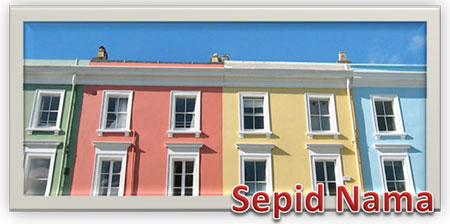 ---
The main aspects of a building are its appearance and its durability that is its ability to withstand harsh and adverse conditions Before the advent of modern technology man used stones for construction of buildings.
However it has been found that stones besides being expensive are heavy and difficult tohandle
.Modern man has found other alternatives.
These days paints are used not only for enhancing the beauty of a building but also for protecting it from the action of weathering as well. Modern buildings are designed and built to withstand the impact of:

U.V. Rays

Rain

Snow, Sleet Etc

Paints used on the exterior of buildings should have good adhesive properties and must be impregnable to water to prevent blistering and cracking.
---
Quality Characteristics
Permeable in any surface.
Good adhesive property to cement, concrete, and brick made surfaces.
None blistering and non flaking
Protection against corrosive gasses and air pollution Resistant to acid and base agents Non yellowing and resistant to U.V. Rays Resistant to Fungus growth Water proof without blistering on dry film and allowing undercoat breathing Protection of building surfaces from erosion Suitable to be applied under any weather condition and in all seasons Minimum absorption of dust Self cleaning property by rain drops or water SEPIDNAMA can be produced in different colors as per the customer's requirements.
---
Advantages of Sepid Nama
There is no need to use any chemical for surface preparation Has a long life and provides elegance Points to be considered before applying Sepid Nama Only Sepitak Putty should be used No solvent should be used for diluting Sepid Nama without consulting our technical experts.
---
Effect of Sunlight On Sepid Nama
Yellowing and paleness of the painted surface occurs when exposed to sunlight for long.
Sepid Nama treated surfaces are resistant to sunlight and the phenomena of yellowing andpaleness does not happen to surfaces treated by this special paint.
---
Sepid Nama Preserves the Painted Surface
Air Pollutant particles and dust makes surfaces painted with ordinary paint look drab and dirty within a few months after painting. Surfaces treated with Sepid Nama on the other hand do not absorb the particles from the environment giving a fresh and new look all the time.
---
Self Cleaning Properties of Sepid Nama
The pollutant sedimentation on Sepid Nama can be cleaned very easily with water Even rain can wash away the sedimentation settlement on the painted surface. This feature helps retain the paints transparency.
---
Impact of Weather Pollution on Sepid Nama
Gases emitted from cars are very harmful to cement surfaces. They may even cause Acid rain.
These factors do not affect Sepid Nama treated surfaces as they are resistant to these kinds of external impact.
EXTERIOR MASONRY PAINT
This Product is specially designed and formulated for use on external surfaces of buildings.
It protects the cement surface from U.V Rays, raindrops, acid rain.

Air pollution such as SO2 &CO2 gases and particles in the air has no impact on surfaces treated with this paint. The unique characteristic of this paint is, it is self cleaning and its application is very easy.
Test
Standard
Test result
Product code
-
EF 1210
Hue/color
RAL
According to the customer's order
Application method
-
Paint brush, roller – two films
Dry film thickness
-
150 microns as a primer and 150 microns for
topcoat
Suitable temperature for application
-
-5 C~ 45 C
Drying time
-
30 min. in 25 C
Viscosity
-
0.3 x 10000¯¹ Pa.s
Density
ASTM D1475
1.28 gr./cm3
Nonvolatile materials ( Weight percent)%
ASTM D1644
68 ± 1
Nonvolatile materials ( Volume percent)%
ASTM D2697
43 ± 1
Ignition point
ASTM D56
42 ± 1
Adhesion
ASTM D3359
5 B
Scratch
ASTM D3363
5 H
Humidity (300 Hrs.)
ASTM D4585
Resistant
Submersion in water (300 Hrs.)
ASTM D870
Resistant
UV ( 300 Hrs.)
ASTM D4587
Resistant
Salt spray ( 300 Hrs.)
ASTM B117
Resistant
Water resistance
-
30 min.after application would be resistant in front of rain drops
Water absorption
-
After 2 hrs. submersion = 0.005 gr./m2
After48 hrs. submersion = 0.09 gr./m2
Chilling resistance
-
In –20 C for 24 hrs. no changes seen on the surface
Consumption rate
-
1 Kg 1.5~2 m2
Packing
-
10 Kg
Storage
-
1year away from direct sun rays in 25 C
Important Note
Please note that all Sepitak products are solvent free.
These products do not require any kind of thinner or hardener. It is recommended not to add any kind of solvents to Sepitak products.
Tools used for applying can be washed with thinner Roof Coating