Metal Coating – Sepid Felez
We Are Served Quality
Industrial Coating
Metal Coating – Sepid Felez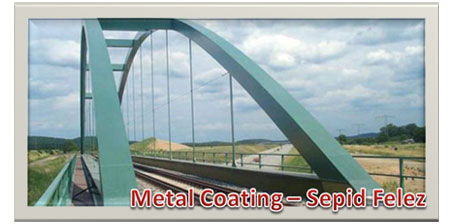 ---
Metal Coating – Sepid Felez
This special coating having both the characteristics of a primer and a top coat comes in a ready to use one pack This coating which is anti abrasive has a high resistance when exposed to Chemicals salty vaporous, and tough conditions. It has an excellent adhesion property to different surfaces .
Important Note
Please note that all Sepitaks products are solvent free .These products do not require any kind of thinner or hardener. It is recommended not to add any kind of solvents to Sepitaks products
Tools used for applying can be washed with thinner.
---
SEALER
This sealer is solvent free and made of plastizole PVC base. Its ticsotropic property prevents it from greeding when applied in different thickness even on vertical surfaces. It has excellent adhesion property when applied on steel alloys or surfaces quoted by any primer.
It is very flexible and it has a high mechanical resistance. When the sealer is baked the surface will be flat enough for paint to be dispersed even on a baked sealer.
---
Test
Standard
Test result
Product code
-
UD 6443
Hue/color
-
Lemon yellow
Application method
-
Under pressure pumps with pressure
proportion 1/12 or 1/24 or grease pump or trowel
Dry film thickness
-
200 microns
Viscosity
-
180000-20000 CP .BOOKFIELD RVT6
Density
ASTM D1475
1.6 gr/cm3
Time and degree of baking
ASTM D1644
130~180 C for 20 ~ 40 min.
Impulse
ASTM D2794
1 kg=> 0.5 m
Adhesion
ASTM D3359
On ED primers => 5 B
On ordinary two component primers => 5 B
On bare steel alloys without coating => 4 B
Scratch
ASTM D3363
4 H
Bending
ASTM D1737
5 mm mandrel , DFT = 1 mm
Impulse
ASTM D2794
1 Kg=> 0.75 m
Humidity (250 Hrs.)
ASTM D4585
Resistant
Submersion in water ( 400 Hrs.)
ASTM D870
Resistant
Salt spray (400 Hrs.)
ASTM B117
Resistant
Packing
-
220 kg drums
Storage
-
6 months – away from direct sun rays in 15~25 C
Important Note
Please note that all Sepitak products are solvent free .These products do not require any kind of thinner or hardener. It is recommended not to add any kind of solvents to Sepitak products

Tools used for applying can be washed with thinner